Coaches Bio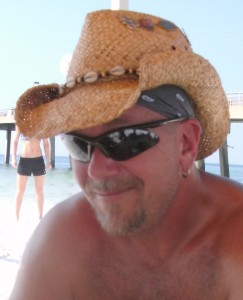 David Harris.  David is a native New Orleanian who grew up playing the traditional American sports of football and baseball.  He started playing beach volleyball in 1987 when the business where he worked built a sand court.  After college he moved to the Caribbean to tend bar and play volleyball on the Miller Lite four-man tour, and though his team didn't garner many wins on the professional circuit he had a wonderful experience traveling while playing a sport he grew to love.  He considers himself lucky to have traveled extensively and seen the development of sand volleyball in North America from coast to coast and even into Canada.  In November 2012 he became a Beach IMPACT certified volleyball instructor through USAV.
Glenn Landrum. 
Born and raised in Gulfport, Mississippi, Mr. Landrum grew up playing various types of team sports particularly baseball, football and basketball.  He attended the University of Mississippi on a baseball scholarship while working towards a Bachelor of Science degree in mechanical engineering.  After graduation, he moved to New Orleans to work for a shipyard where he was introduced to the sport of volleyball.  Playing team sports all his life, volleyball fulfilled his competitive needs, but it also provided a social network that allowed him to form lasting bonds with individuals of all backgrounds.  Volleyball has been an important part of his life, and he is determined to promote the sport so others can have the same positive experience.  Currently he owns New Line Environmental Company, a firm that is significantly involved in the revitalization of the levee protection system and coastal restoration for the Gulf region.  He feels the lessons learned through playing team sports allowed him to be successful in business as well as in his personal life.
Holly Bell.  Originally from California, Holly Bell holds a PhD in Human Ecology from Louisiana State University.  Her Master's degree is in Elementary Education from Arizona State University, and her Bachelor's degree is in Music from Brigham Young University.  She has taught elementary grades kindergarten through 8th grade in Arizona, and on the college level in Texas and Louisiana.  Currently Holly works as Gallery Learning Specialist at the New Orleans Museum of Art.  While she has had some experience in pick-up volleyball, she has not participated competitively.  Her child development background is what originally drew her to Mid-City Youth Volleyball – to work with the mini and youth volleyball programs.  She is Beach IMPACT certified through USA Volleyball, and she is enjoying learning more about the game while working with young athletes.
Isabel "Isa" Cuellar Shahan, MCYV board member.  Isa hails from Guatemala City, the capital and largest city in the Republic of Guatemala, and she moved to America as an adult after meeting her husband through the American School of Guatemala where both were teaching.  She was an energetic child, and by the age of twelve her mother decided she needed to do something to improve her concentration. After consulting the newspaper and considering a variety of sports, Isa's mother concluded that volleyball was the best fit for her exuberant daughter. As Isa says, "I will always be grateful to my mom for pushing me and wanting the best for me."  Isa started playing volleyball for her school and quickly excelled at the sport, and within three years she was selected to play on the junior national team which traveled extensively within Guatemala.  The team also competed internationally, and Isa feels fortunate to have visited Cuba, Costa Rica and Detroit in the USA during her adolescent years.  Despite the rigorous training schedule of 3-4 hours daily during week days, Isa looks back on this period as a fun learning experience.  Sadly, by the age of seventeen Isa felt compelled to choose between study and sport, and she decided to pursue academics ultimately graduating from technical school as an English teacher.  She currently teaches preschoolers at the Crescent City Montessori School and is in the process of obtaining her Montessori certification, but she fondly thinks back to her early teen years as the most amazing time of her life.  As she says, "During those five years I learned about self-discipline, hard work, friendship and most importantly doing something healthy for my body and mind."  She is now a busy mother of three young children, but she remains active and continues to play with The Mid-City Volleyball Group (MCVG) when she can.  "Coming to New Orleans and getting to know MCVG people has been the biggest blessing for me, and as long as I can play volleyball MCVG is like my second home."  She recently joined the Mid-City Youth Volleyball (MCYV) board and is in the process of obtaining coaching accreditation through USA Volleyball.  Her experience playing at an elite level, raising rambunctious children, and speaking fluent Spanish makes her a valuable asset to the MCYV youth program.
Jason Daming. 
Jason grew up in St. Louis, MO where he attended the Missouri University of Science and Technology (Missouri-Rolla) in Computer Engineering.  He then moved to Austin, TX where he really learned to play volleyball on the three sand volleyball courts in his apartment complex.  Later he moved to New Orleans working at Waldemar S. Nelson Engineering.  When not playing volleyball he is mentoring FIRST robotics and playing board/card games.  In November 2012 he became a Beach IMPACT certified volleyball instructor through USAV and hopes to share Beach Volleyball with many generations to come!
Joey Scavo. 
Born and raised in the New Orleans area, Joey earned his Bachelor of Science Degree in Computer Science in 1989.  He began playing competitive indoor and outdoor volleyball during his time in college.  He played at Coconut Beach for many years during which he participated in officiating the Pro Beach Tours held there.  He has also learned the finer points of the game from clinics given by Sinjin Smith, Karch Kiraly, Adam Johnson, Steve Timmons and many other champions of the game.  In December 2012 he earned both Indoor and Beach IMPACT coaching certifications from USA Volleyball.
Mazvita "Vita" Maziveyi.  Mazvita was born in Harare, Zimbabwe and grew up in Durham, North Carolina. She began running track, playing basketball, soccer and softball at a young age. In the 7th grade, she fell in love with the sport of indoor volleyball. During her junior and senior years of high school she was selected to play for Triangle Volleyball Club which has produced many professional volleyball players such as Megan Hodge. During her last season at Hillside High School, Mazvita was a captain and earned the Best All-Around Player award. She earned the All-State Senior Award and was invited to play in a game for the top senior volleyball players in North Carolina. She was heavily recruited to colleges and chose to go play NCAA Division I volleyball for Chicago State University.  While on summer break, she coached indoor volleyball at her former high school.  During her first season at Chicago State University, she earned the Most Valuable Player Award. She was a Great West Conference All-Academic Honoree for 3 years and on the Athletic Directors Honor Roll for all 4 years. During her senior year at Chicago State University, she received the Scholar Athlete Award, Great West Conference Sportsmanship Award and the Most Outstanding Student-Athlete Award. She was a captain for her last two years as a college athlete. She was mostly an outside hitter but was a middle hitter and setter for some matches. Mazvita graduated from Chicago State University in 2012 with a degree in Biology. She moved to New Orleans in 2012 to attend the Louisiana State University Health Sciences Center where she is earning her PhD in Biochemistry and Molecular Biology.  Although most of her competitions have been indoors, some of her most effective training routines were achieved through sand volleyball. She plans on helping young volleyball players increase their versatility by encouraging them to play both indoor and outdoor volleyball. Her main goal as a MCYV coach is to mentor young athletes so that they will succeed in their future academic and athletic endeavors. certifications from USA Volleyball.
Melissa Gemeinhardt.  Melissa is a New Orleans native and certified educator with over twenty years of experience.  In addition to classroom responsibilities, she has also provided service to youth through Scout leadership, Aquatics programming, literacy consulting for the Louisiana Endowment for the Humanities, and adult education in Child Development.  She has published and presented at local, state, and national conferences regarding the role of adults in providing healthy active play experiences for children and successfully raised three children as well.  Her interest in sports began with meaningful childhood experiences in soccer and swimming that continued through college.  She discovered The Mid-City Volleyball Group through friends in 2012 and quickly became involved with the youth program as a result.  Melissa is Beach IMPACT certified and will be focusing on various forms of play for children ages nine and under in the mini-volleyball program of Mid-City Youth Volleyball.
Peter Hickman, president of MCYV. 
Mr. Hickman began playing indoor volleyball at the age of twenty-four while he was a graduate student in Biochemistry at the University of Illinois at Urbana-Champaign in 1986.  He quickly became hooked on the sport and transitioned to the outdoor game once he moved to New Orleans in December of 1990.  Though mostly self-taught for over two decades, Mr. Hickman sought out more formal training through USA Volleyball beginning in 2010 and by December of 2011 he became a certified USAV BCAP Level I beach volleyball instructor.  He continues to enjoy learning new techniques and tactics to improve his own performance on the court, and he is eager to pass on his knowledge and passion for the game to a younger generation of both boys and girls.  His coaching philosophy is to encourage high caliber play but not at the expense of having fun!  Mr. Hickman began running adult leagues in the New Orleans area in 2000, and he noticed a significant amount of burn-out among the elite indoor players of the USAV Bayou Region who gave up the sport after their college careers or even earlier while still in high school.  Mr. Hickman will try very hard to keep the atmosphere of clinics, tournaments and leagues relaxed with the goal of not only helping young athletes develop excellent volleyball skills but to instill in them a fervor for teamwork and good sportsmanship that will last a lifetime.
Thomas Gorman, secretary and chair of MCYV.  Mr. Gorman hails from Takoma Park, Maryland, but he learned "old rules" volleyball in
Bakerton, West Virginia.  He moved to New Orleans in October of 2008.  Mr. Gorman has played competitive volleyball for over twenty years and coached one of the two West Virginia men's senior volleyball teams in the 2005 and 2007 Senior Olympics (he was too young to play on the team himself).  Mr. Gorman is a proud member of USAV and is a BCAP Level I certified beach volleyball instructor.